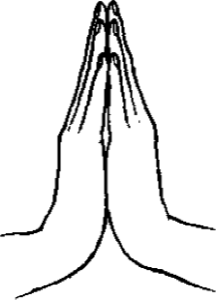 Atmanjali mudra
Gesture of prayer


Place both hands together in front of your heart chakra. Leave a little hollow space between the two palms. At the beginning or close of the meditation, sit or stand for a while with your arms spread and raised to Heaven.

Placing your hands together in front of your chest supports inner collection and creates harmony, balance, repose, silence, and peace. This gesture activates and harmonizes coordination of the left and right brain hemispheres. It can support a supplicatory meditation when you have a request of the Divine, when you have a heart's desire that you would like to have fulfilled. With this gesture, you also express reverence or gratitude. In India, it is a gesture of greeting or thanks; it shows respect for fellow human beings.

The ancient Celts and Teutons contacted their gods with raised arms. This gesture is very powerful and was prohibited during Christianization. Later, it was introduced once again. However, only the priests and members of religious orders-but no longer the common people-were permitted to use it. Who was meant to have the power here? In India and Nepal, people make this gesture toward holy people and to those they respect.

As already mentioned, this mudra calms our thoughts and creates clarity as a result. Calming thoughts are always based on a certain power, power that builds up physical strength and stabilizes the mind, as well as clarifying and strengthening.
Visualisation
Imagine that you are at a holy place of power. Perhaps you know of a holy place of power that has special meaning for you. Then, in your thoughts, you can bring it to the privacy of your own room at any time. You can also visualize a place that harmonizes with your needs. Imagine this place as precisely as possible. At holy places, we feel a special energy. Try to also feel this energy within yourself. This mudra will bring you to the silence; whether you make a request, ask a question, give praise, or give thanks-if you are willing to be helped, you are certain to be helped at the right time and in the best way possible. At the end of the meditation, remain in silence for a while. Immerse yourself in the peace and joy of the Divine.
Affirmation
Full of thankfulness, I receive the good that waits for me.